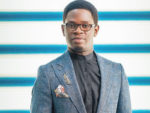 Olanrewaju Howells: Using Real Estate to Promote Agro-Tourism
There was nothing about his early beginnings that suggested he would dabble into agriculture. His father was a surveyor from who he learnt the ropes of the business from a tender age. Today, Olanrewaju Howells is using real estate to promote agriculture and tourism, writes Vanessa Obioha
But by the time he gained admission into Moshood Abiola Polytechnic, Olanrewaju Howells, the CEO of Beyond Building, a premium real estate investment company, found himself studying a different course: Mass Communication. The decision was deliberate as he believes that communication goes beyond journalism and is a prerequisite skill in any business. While in school, Howells involved in different businesses, not out of necessity but out of foresight. He already had his future plans mapped out.
"I started entrepreneurship from my school days. I did a lot of trading in computer and laptops, built my first shop in my first year in school. At a point, it was tough for me to balance studies and business," he disclosed.
By 2012, he founded his first business, Rent Masters Realtors, a real estate company that provides standard and trusted housing solutions in Nigeria and Africa. The firm still operates under the parent company, Beyond Building which was founded two years ago.
He added, "Beyond Building came after Rent Masters which was a platform that pioneered online rentage. We felt people were tired of going through the arduous task of checking out apartments from one agent to another. As the company started to grow, we went into different areas."
One of such areas is agriculture. A shrewd businessman, Howells and his team saw a golden opportunity five years ago when the industry experienced a little challenge.
"Five years ago, the industry experienced a little challenge. There was a boom and everybody started doing the same thing and I felt like we needed to do something different from what everyone was doing. We felt the need to explore and do new things. Agriculture was one of the options available but we didn't want to start setting up farmlands. Rather, we looked at the challenges faced by people that are in that part of real estate. We discovered that the age of an average farmer falls between 50 and 55. Looking at the population of Nigeria and the fact that we have many youths, our findings revealed that if we continue in that pace, in the next 15 years we will be in serious problem. What will happen to the industry when these present farmers get very old?
"We also realised that mechanised farming can only be done by the emerging middle class and these people need to have a certain level of interest. We didn't want them to get involved because people are talking about it. We needed them to be genuinely interested in the field. Having at the back of our minds that the middle class are well exposed professionals with regular jobs, we knew there must be a certain level of structure to entice them to explore this real estate platform. We came up with the initial plan to build a system that will make the middle class go to farming by making the land available and bringing it closer to them," Howells pointed out.
That feasibility study gave birth to Varden Farms, a real estate investment for those seeking to generate revenue through agriculture in a tranquil environment.
Howells kicked off his new plan with the Varden Farms Scheme in Epe in 2014. The scheme sold farmlands to investors and provided consultants to help them set it up.
However, in 2016, the Ogun State indigene took a step further by launching the Varden Farms and Resort – a major tourist destination that intends to offer its customers several services to meet the huge demand gaps and create wealth through agriculture.
The overall goal, according to Howells, is to make agriculture attractive to youths.
"We discovered from the scheme that most of the farmers couldn't stay on the farm. Our concern in the first place was how can we encourage the middle class, the youths to go into farming. The Nigerian economy was initially built on agro. It means that people who used to push it are no longer pushing it and the second generation are not so deep into it. They don't even have understanding of how it works and they feel like it is a dirty work. We need to look at all these factors. So Varden Farms and Resort is where you farm and you still feel like you are in your luxury apartments," he explained.
The Agro-Tourism destination also goes beyond farming. They are into processing, distribution and storage. There are also concerns about the quality of food produced which Howells said is paramount to him.
"We are also key on organic. We are looking at processes to make sure that most of these livestock, veggies are very organic. The high rate of health issues in the country today is a result of the number of processed and imported foods we consume on daily basis. We are having a lot of health crisis today. We are not here to provide just a platform for people to invest in agro or start farming, we are taking into consideration the way it can affect the health and lifestyle of the people involved. The farmer is playing a very crucial role in the health of the nation because they produce what the nation consumes. It is important that this farmer is clear on anything he does," he stated.
Howells further expressed great optimism that agriculture will yield more revenue for the economy than oil.
"Without a doubt, agriculture can be to Nigeria what oil is. We have the records even in recession agriculture was not part of the sectors that was affected. If we increase capacity, we have what it takes to make agro, much more than what oil is. We have the best arable land. Nigeria is the only place in the world where you can throw a corn seed on any ground and it will fertilize the following day without cultivation. We just need to have more purposeful leadership and build systems that will not only help farmers but encourage more people to enter the sector," he noted.
For Howells, there is no big difference between real estate and agriculture.
He said, "What separates farm and real estate is the use of the raw material. The raw material is the land and real estate is the land. What you use the land for is what people give title to. I can decide to use my own land to build a house, someone else can build a church or a park or a market. The land is an estate, an embodiment of agro-tourism."
There are plans to set up Varden Farms and Resort in other parts of the country such as in the northern and south-western region. For now, it is available in Epe. Howells also revealed that very soon there will be Varden Shops available in selected areas in Lagos where people can shop healthy foods. The outlets are part of his empowerment programme to engage 5,000 youths in the sector.