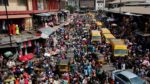 Population growth driving real estate investment
The Group Managing Director of Palton Morgan Holdings, Mr Adeyinka Adesope, says the country's population growth has increased investment in real estate.
He said buying and selling real estate products had increased over the years and would continue to grow.
He said, "Nigeria is an emerging nation and the population is growing, at a point, a whole lot of people will need housing and people are taking advantage of this by not just buying houses but land to keep.
"A lot of people are taking advantage of the fact that Nigeria's population is growing, people buy land and take their time to develop it. The average age in Nigeria is 19 and these people will grow up with the need for places to live."
Adesope spoke during a health walk to celebrate the 10th anniversary of PropertyMart Real Estate Investment Limited, a member company of the Palton Morgan Group, in Lagos.
The Managing Director of PropertyMart Real Estate Investment Limited, Mr Deji Fasunwon, said the real estate industry had maintained a steady growth since the firm began operations.
"But it appears now that everyone sees the real estate business as what they can do, whether they have the expertise or not. But it takes a lot of passion and desire to make things happen for you or to remain in business.
"If it is about money, you will not last long and because the industry is not regulated. There have been a lot of charlatans but over time, we have been able to differentiate between those in business to make a difference and those in it to make money," he said.
According to Fasunwon, the firm has grown from site and services to building beautiful estates and growing beyond a small business that started 10 years ago.
Adesope said the walk was not only part of activities to celebrate the anniversary but also to sensitise people about the need to pay attention to their health, so they could enjoy their investment in real estate.
He added that the recent ranking of Nigeria vis-à-vis the ease of doing business showed that the country had returned to number 146 in the world.
He said, "What that tells us is that it is tough to do business in Nigeria. So, if a business can spend up to 10 years and is still going strong, it is worth celebrating, especially starting from a humble beginning. We did the walk to remind ourselves that the journey of the last 10 years has not been easy, especially with erratic policies. Of course, we have also enjoyed good governance at one point or the other.
"We have also faced inflation and devaluation of the naira. Sometimes you sell a house for like N10m and you just wake up one day and realise you need about N15m to deliver it.
"The walk was to also to remind us that the journey ahead is tough and will require patience and as a company, we may have to walk or run when we have to or fly when we have to, but we have to keep moving into the future."