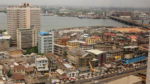 Nigeria cities burdened by inadequate planning, urbanization
Although housing has continue to pose severe challenges in many parts of the country, the problems are however more peculiar and severe in Nigerian cities.
With uneven distribution of goods, services and infrastructure, some of the cities have become major hub offering more prospects for citizens who are forced to migrate for greener pastures.
The true scale of the housing challenge can be gleaned from the fact that it is estimated that about 108 million Nigerians are homeless based on an average family of six people per housing unit.
The figure puts Nigeria high in the global figure of 1.6 billion people that lacked adequate housing according to Habitat's report in 2015.
This is a consequence of many factors, including rapid urbanization, poverty and currently mainly the terror by the Boko Haram terrorists.
Although specialists have proffered some housing problem solutions in Nigeria, they have little or no impact with housing problems remaining unabated.
Experts said the problem is as a result of urbanization and improper planning by government and professionals in the built environment.
According to them, the situation is becoming more of economic issues as people tend to abandon cheaper and affordable homes in the villages to cities as a result of the golden fleece.
Thus, the cities continue to suffer more than villages in terms of housing shortages.
For instance, Lagos with a population of over 20 million is battling with 3 million housing units in deficit.
The city, according to a recent World Bank report is slowly sliding into a slum.
Bordered by a tributary of the Atlantic Ocean, which makes its location best suited for the importation, the city has assumed the megacity status.
Real estate entrepreneurs have also intensified the business of providing affordable housing for both low, medium as well as large income earners living in the city of Lagos but Lagos still needs 187,500 housing units to overcome housing deficit.
The city has a quality of life of 0.63, which is low compared to commercial centres in Europe like Paris with 0.93 or London with 0.90 according to UN Habitat.
Experts said the housing deficit of 1.7 million in Abuja, may not be remedied unless there is a paradigm shift in the housing policy. The cost of renting a mini flat here may be as high as N750,000 in some areas. A rent for three bedroom flats goes also as high as N 6 million in popular areas.
The chairman of Royal Institution of Chartered Surveyors (RICS) Nigeria, Mr. Gbenga Ismail, said the deficit is becoming pronounced because of lack of opportunities in the villages.
" For me, I think it is more of economics because people will not want to stay in the villages where houses are available and cheap because of the opportunities, while developers will not want to develop in the areas even with cheap land because no body will want to live there". He said.
He stressed that the problem could be tackled by providing infrastructure so that people can stay where houses are cheap and go to work without stress.
Also the Chief Executive Officer of Lifepage, an Investment Holding Company , Mr. Oladipupo Clement, called for incentives from government to allow developers tackle the shortage as it is more from the bottom than from the top.
For the chief executive officer of Tobykemsworth Investment limited, Mr. Adekunle Raphael, addressing housing deficit will require innovative thoughts on how to reach the most vulnerable sector of the society, who are in dire need of homes.
Also, the Chief Executive Officer, Global Property & Facilities International Ltd (GPFI), Dr. MKO Balogun called for restructuring of the system to meet the demand of those who really need accommodation.
The Real Estate industry, he said, has continued to slow down largely due to oversupply in commercial and retail sectors, inappropriate supply in the residential sector, hence the restructuring.