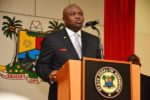 Lagos moves to ease land, property litigation
To reduce litigation in property and ease the process of doing business in the sector, the Lagos State government has developed an electronic real estate litigation system (aka Lis Pendens).The electronic system was designed to provide easy access to information to anyone who intends to deal in real estate with information primarily on whether the property is subject of litigation in a court.

Lagos Attorney General and Commissioner for Justice, Mr Adeniji Kazeem, said the system was designed in line with the administration's drive to promote information technology in the state.

Represented by the Solicitor General, Mrs Funlola Odunlami, she noted that the state is certainly in trend with the time, with the launch as the world today is a technology driven.

"We have been working endlessly to ensure that Lagos is not left in the dark ages. This is why several initiatives and steps are being taken to make Lagos State as technologically driven as possible."

The attorney General further explained the system "will offer end-users the platform for "filing a 'Lis-Pendens' entry which may be uploaded on the 'Lis-Pendes online system, thus giving actual and constructive notice to the public and innocent purchasers".

The AG also described the real estate sector as one which records a very large turnover within the economy of the state.

According to him, " with the vision of becoming the largest economy in Africa, it is expected that the level of economic and commercial activities in Lagos State would experience an unprecedented level, height and pace. The real sector is therefore expected to further attract a significant amount of attention".

Kazeem therefore explained that other services the electronic real estate litigation system would include; "provide a comprehensive database of real estate/property in Lagos which is subject of litigation., provide information on pending cases in court, notify the public of real estate and property which are the subject of pending litigation, curtail risk associated with property transactions,

"Reduce litigation on real estate as the public can now easily confirm if a property is subject of a pending litigation, enhance due diligence in property transactions, ensure the public and professional bodies are able to conduct an efficient search of real estate and property among other services.

However, Mr. Emmanuel Akinde who represented the Permanent Secretary, Lands and Registry advised that the new initiative be backed by law to give it more effect just as searches on properties is backed by the Lagos Registration of Titles Law 2015.

He said," before now, searches are only limited to finding out if land is under government acquisition or not. With this innovation, real investors will know whether there is litigation on any land in the state."

The Surveyor General, Mr. Olutomi Sangowawa admonished them that the system should be on-line real time so that investors can know if there are encumbrances when transacting businesses on properties.